Ride Report Archive December 2012
Riding Old Fort Ord trails
Met up with the MORCA mountain biking group to ride the trails around old Fort Ord.
It was a group ride, and Darius, the ride leader told me that they would regroup a few times and see how the group was doing and maybe break up into a fast and casual pace groups.
We started out of the paved parking area, I started cranking, watching the group out of the corner of my eye to see where to fall in and ended up riding in the forth position.
Darius started out with a good fast pace on a hard packed sandy single track. The line rolling downhill at a gentle rate.
I didn't want to hold anyone up so I stayed right on Ken's back wheel. Watching every move he made, tracing his tread pattern with my front wheel.
The trail started in a tan oak forest that was intermixed with Manzanita, weaving in and around the smaller shrubs, the line was a fast pump and glide ride.
If I had not been in the group I would have been lost for sure, there were so many trail junctions merging and diverging around every corner. Latter I would learn this area was called the Happy Trails area, a good place for beginning riders to get their wheels under them.
After ten to twelve minutes we stopped for a regroup.
After a short wait the group was ready to head out again. Darius, John, and Ken took off and as I kicked my pedal around, another rider dropped in behind Ken. I picked up her back wheel and we started flying down the trail.
After a few minutes the lead riders had disappeared and we were following their line by reading the tread imprints on the trail.
We rode at a comfortable pace, following the lead riders. The line taking a mild uphill turn to run straight. I could see the lead riders pulling away as the rider in front of me started shifting down.
The trail made a turn into the brush and the line started flowing down a narrow break until it broke through a small meadow.
Before long we hit a couple trail junctions, making a turn I saw Ken down the trail, hopping off his bike to turn around and take off.
We regrouped again after a couple of minutes, and Ken said "what happened to you, I thought you were right behind me", the other rider answered "I cut him off".
The lead riders took off, a casual glance at the other rider, and I cranked up to speed and was again on Ken's back wheel.
The trail continued on the moderate descent, but these guys never quit pedaling so we were cranking this line fast as it blasted through the oak forest, the ground covered with lush green grass and sprinkled with clumps of brush.
The trail ran down to a fence and turned to follow the fence line. The fence had signs posted every thirty feet "Do Not Enter" or "No Introduzca".
We came to a wide open area and stopped again to wait and regroup. This would be the last regroup, nothing was said that I heard but after this the four of us just kept cranking.
We headed uphill on a mix of single track and double track, the tread rutted hard pack. Cranking along with a few short stand up and pump sections until we turned onto a single track for another short run of pump and glide. The quick fast stretch ended in a turn onto a rutted wide double track for a little more of a focused climb.
After cranking out the climb, we enjoyed some fast twisting track that ran through the brush and skirted open meadows as we followed trail #57 and then turning onto trail #56, trails that could be easily ridden in ether direction.
We hit gravel and rode down the road for a few feet before turning onto trail #62. A tight twisting trail a serpentine line across the hillside, through waist high dense Manzanita brush.
I stuck close to Darius, watching every corner and trying to track his line through one blind corner after another.
We hit the bottom of the hillside and the trail dumped us out onto pavement, where we glided down the road for a few feet to regroup before we bombed down trail fifty.
Trail #50 is a fast descent that runs through sparser Manzanita brush and in and out of Tan Oak groves. The tread not as packed with lots more duffy, soft sand corners, causing me to dump it on one quick turn.
We hit pavement again and rode across to pick up trail 71/49, the trail marker indicated trail #49 but the map has it as trail #71.
Darius hollers back as we take off at a quick pace, "This is one of my favorite trails". I'm expecting some great fast downhill but instead, the line rolls up and down. Stand up and crank it out then roll the break to blast down through a swooping turn to repeat until the trail junctions.
The junction indicates the trail to the left is #71 and we continue on #49.
Not wanting to lose Darius, wanting to stay on his wheel through all the fast downhill I'm greedily expecting, we start climbing.
Little did I know this was the 'test his metal section'. Darius sets a fast climbing pace as my heart rate climbs and the American Pie lyrics "Them good ol' boys were drinking whiskey and rye, singing This'll be the day..." starts playing in my head, my heart pounding out a good 180bpm minimum for the next ten minutes.
As we were approaching the top of the climb, Ken, who was riding behind me, shouted out that the trail was shifting around the corner. Not understanding, I pulled up and he passed me and disappeared around the corner. I cranked it up as the trail turned soft with deep sand. I turned the corner to see Ken just reaching the top of a steep deep sand climb. Hunching down and pouring all I had left into the next twenty feet, I cranked, feeling the sand shift under my tires as I climbed and ground my way up the steep to clear the top.
The trail dumped us on a dirt double track where a large flat stone stood next to the road. The stone was split in two, about three feet tall and a good six feet across.
We took a short break here, a view that was grand. Darius pointed out some of the surrounding trails and talked about planned trail reroutes and improvements.
We had been riding for a couple of hours and Darius was wondering how much more exploring I was up for, I told him I had about forty five minutes left in me, so we turned our bikes to head back.
As we headed up the dirt double track, Lookout Ridge Rd, Ken told me they called this the mother-in-law.
We rounded a corner to face a steep that could only be described as a mother. A rutted dirt double track, embedded with small rocky rubble. There was no spinning up this climb, it was a dig in and put some power into it. The front wheel dancing back and forth, the incline steep enough that to keep the front wheel on the ground you had to move forward on the saddle and lean into the climb.
Steep enough that water bar was a break where I could ease up and spin a couple of pedal strokes before cranking back into it.
The ascent quickly broke and we cruised along the top of the ridge with a wide panoramic view.
The double track took a turn and we descended the wall. An off the saddle, weight back over the rear wheel descent on rutted hard pack.
The aptly named wall got it's name from the Sea Otter Classic race. This was part of the race route and presented the riders with a formidable uphill. Darius said that he just jumps off his bike and runs up the hill, since there are lots of competitors attacking the hill, finding a good line can be a challenge in it self.
We stopped for a moment to look at the view from lookout ridge road. Darius pointed toward a large cleared area on the mountainside a few miles away in the distance. He said that was the shooting range and they had stripped off the top three feet of soil. It kind of looked like they could put a big freeway through there.
We rolled on down the double track to turn and pick up trail #50. The line dropped and we entered an Oak forest, a fast swooping trail with wide turns and very little cranking, transitioning from Oak to open expanses covered with Manzanita then open fields and back to an Oak forest.
There was a little soft sand on the corners that would be easy to wash out on if you don't watch the track and take the high line.
We were back at a junction we had visited just a little while back, the junction with trail #49.
We took the chain-gang trail #50 and climbed up the twisting turning trail to gain the high ground and turn onto trail #61. A mostly flat line that runs across E. Machine Gun flats.
The flats had large expanses that were in the process of reclamation, the ground looked plowed up and Darius told me they were in the process of planting to restore native plants.
Exiting trail #61 we crossed pavement and headed down a double track called Little Moab.
Little Moab was a fast straight line running across the top of a ridge, it took a few small turns before hitting an open area to junction with trails 93 and 94. We headed down trail#93 and the smooth swift lines we were riding disappeared for a few minutes as the tread turned to a rough hardpack or bedrock, I am not sure which. What I did know was that the trail became a lot more technical as it served up lots of choices as to what line to take.
The trail flowed down over the tops of little rifts or faults. The tops of the little ridges providing a fast firm and narrow line. Quickly moving from one to another as the angle of descent increased.
There is not real trail here, a wide line with lots of opportunity to choose your own path or make your own mistakes. I followed close to Darius as the trail make a turn to descend along the edge of a cliff that Darius pointed out with a wave of his arm and a shout "Cliff!"
At the same time the tread turned from fast smooth little ridges to a rough, pocked surface on a moderately steep downward slope.
The descent emptied out onto a fast sandy single track that blasted through grass and salt-bush.
The trail merged into trail #91 and started another technical descent down a double track riddled with deep erosion. The key was to look ahead and pick the line that was not going to dump you into a ditch. I missed that part, didn't get dumped, saw the track that I was on disappeared so I quickly slowed and bounced across to another little ridge and continued the descent to roll out onto more fast single track.
We continued back to the parking area, lots of fast single track and a little pavement along the way.
I had a great day with a couple of hard riding skilled mountain bikers and want to thank both Darius and Ken for showing me a great time.
Paradise Royal
One other mountain biker was taking off when I got there. I asked if he was also riding solo. He was, I'm sure all he saw was old guy with white beard.
The trail starts with some easy climb and glide through some small deciduous and fir trees. The tread covered with this falls broad leaf shedding. There was lots of debris in the form of broken limbs from recent storms.
The trail breaks over the top of the ridge and presents a nice fast downhill cruise. Lots of fast breaking corners along a rolling line, until it reaches the bottom of a bike park and downhill jump line coming from the other direction. The jump line has a red placard on a post, warning against climbing the line.
Another sign points out the Paradise Royal trail and a return climb for the jump line.
The line climbs again, this time a little steeper line with a few sharp switchbacks, climbing up to the top of the jump line and bike park. I did not investigate the bike park, I could see some big features, including some wall rides and gap jumps.
The trail is on top of the ridge and the next fifteen minutes is a screaming downhill run. The first ten to twelve minutes is on single track that dips and twists through the Madrone and fir trees. A great fast single track with a few rock and root drops but very fast and flowing.
The single track ends at a trail junction, the Paradise Royal heads down hill on a fire lane that has been developed into a line with lots of rollers and kickers. A five minute super fast blast down to the creek.
When I hit the creek, the other rider was wading the creek, the water up past his knees. I stopped and took my shoes off, then grabbing the nylon rope that was strung across the creek, started moving from rock to rock. James, the other rider waded back in and said here give me your bike, I'm already wet. Sometimes it's good to be the old guy with the white beard.
I paced James up the hill, telling him not to press it because I was behind him, I was going to take it easy.
The climb took us about twenty five minutes of steady cranking through fifteen or more switchbacks. We stopped a couple of times to move downed limbs and trees that were to big to ride over.
The climb is a low gear spin, the line laid out so that all of the switchbacks are ride-able with the trail giving plenty of opportunity for breaks with near level and some mild descents.
About two thirds of the way up we hit a downed tree, I threw a couple of chunks of wood in front of it, then backed up to take a run and bounce across.
James offered to let me take the lead. I set an easy pace for the rest of the climb, asking a few times if he wanted to take over.
As we approached the top of the ridge, a big brown bear took off down the trail, a big brown bear, looked like he was probably 250-300 lbs. He disappeared in just a few seconds. The adrenaline hit had me up and pumping like I was in a cyclo-cross race.
The trail stops traversing the hillside and starts meandering in a serpentine fashion up on top of the ridge. Climbing until the trail summits and the line finally takes a strong downhill turn to run quickly through the trees and break into high meadow.
The small meadow has a single camp chair that offers a spectacular view of the pacific, a few miles off in the distance and some twenty five hundred feet below us.
The line flows through the meadow and around a corner, presenting some exposure as it crosses a steep grass covered face to regain the ridge top.
This section presents a few semi-technical rock and root features with another exposed hillside as it runs along the top of the narrow ridge.
We picked up speed as the trail turned off the top of the ridge and started to descend across the back of the ridge. A sharp switchback turned us to traverse, putting the sun at my back and my shadow dancing across the Madrone trees.
A second, raised switchback, built on a wall of pressure treated wood and rocks, turned us again to blast down through the trees on a narrow line that had been carved into the steep hillside.
Portions of the trail traversing the steep hillside were supported by wooden shoring. If it wasn't for the trees the exposure would be extreme. There were sections along here where I had to keep my inside pedal in the up position, I was afraid that if I put them parallel I'd clip the hillside.
The trail rolled back up to cross the ridge and started climbing again.
The trail elevated and wide, climbing at a steady rate to make a turn and run down to a small creek. The trail crosses the creek and up some rock steps on the other side, not ride-able.
Again the trail climbs, it weaves back and forth through small broad leaf trees on an old skidder road at a very steady rate.
After a good twenty minutes of climbing the line drops off the skidder road and traverses the hillside on a single track. The trail rolling up and down behind large fir trees until it reaches a gravel road.
There is a trail sign and then it turns back into the woods to make a radical climb, the tread embedded with cinder block pavers. A very low gear grunt that would not be climbable if not for the pavers.
It's only twenty or thirty feet up to the top of a narrow ridge, the ridge is maybe ten feet wide, dropping off to the road on one side and sharply dropping off on the other side.
Shortly, the single track turns to follow the top of a wide ridge, a mellow line that climbs and glides until it reaches the end of the ridge where it turns to start descending.
Following the ridge the single track descends at a moderate rate until it hits a fire road.
Since I have ridden the trail once before, I knew that it was a screamer through the next section so I asked James if he wanted to take the lead.
The trail is very wide, a fire road that has been integrated into the trail. The fire road has lots of kickers, rollers, and large berms. We headed around the first corner and dropped onto a single track that diverged from the fire road to take a high line above the road and present a drop down a steep bank, back to the fire road.
A second high line appeared about a quarter mile down the fire road. It was a steep up that had to be hit with a lot of speed to carry you up and over the top, a short fast rolling line that drops straight down and back on to the fire road.
After a few minutes of screaming fast running, hitting little kickers and big berms, a fast switchback and the line narrows up to a single track that starts descending across the face of the hillside
The trail drops through the tan oak, madrone, and fir trees at a fast pace, switching back and forth seven or eight times as it crosses back and forth across the hillside to a stream crossing. The line is fast but not real technical.
The trail widens back out after crossing the stream and takes on the looks of an abandoned fire road or skidder road. A fast fun run that keeps descending through the woods, with a half dozen small stream crossings.
After twenty five minutes of downhill running, we get to Bear creek and have to make another crossing.
James just kept cranking, with water over his bottom bracket and thinking he was going to eat it, he cleared it nicely.
I punked! Pulling off my shoes, I waded the creek.
The ascent from the creek starts with a moderate grunt climb up some more skidder road until it almost reaches the gravel road we drove in on. Then the single track takes a turn to continue to climb through a few switchbacks to gain the top of the ridge and finish out with a short easy glide back to the rigs.
Mountain Biking 101
A friend of my sons asked me to write a short piece about getting into mountain biking.
I have been an avid hiker all my life. I have lived in the northwest and hiked the trails of the Gifford Pinchot for the last forty odd years.
About ten years ago I thought it would be cool to be able to ride to my destination; to see the trails from a different perspective.
After watching a show on mountain biking, I was intrigued and with my yearend bonus in hand I went mountain bike shopping.
I had no clue as to what I needed so I went into the Copelands sports store and started looking at the mountain bikes. The associate (salesman) asked me what my price range was and set me up with a Haro V3 for just under $400, including fenders and a bike computer/monitor for recording speed and mileage.
After a year or so I added a cable actuated disk break to the back wheel for around fifty bucks. Everyone I saw kept telling me that I should put the break on the front wheel but I was very happy with it where it was.
I live on a five acre home site. It has some fifty year old timber and there is a walking trail that circles around through the woods behind the house. My property is just about as flat as it gets.
One of the first things that I fell in love with on my bike was the low gearing, even though my property has no climbing challenges, the incredible torque created when I shifted into the low range surprised and delighted me.
I started riding my Haro around the circle, making loop after loop, riding a mile, then two, then three...until after about three months I thought I was ready to take on a trail ride.
My first trail was the Siouxon trail. I had hiked sections of the trail a few times and thought it would be a good one to start on.
From the lower parking lot, I headed north. The trail is basically flat with a number of creek crossings and a couple of exposed areas that I got off and hiked.
At two miles, there is a trail junction and I ran across a couple of mountain bikers heading down toward the creek. They were dressed in colorful spandex, wearing clipless shoes, and helmets. Where I was wearing khaki pants, with a strap around my leg to keep my cuff from catching in the gear and no helmet. I waved hi and one of them looked my way and gave a slight head nod.
The look on his face spoke volumes to me about the mountain biking community. It wasn't that I felt dissed by his look but more that I wasn't going to be taken seriously as a mountain biker if I didn't have the right gear; primarily a helmet.
Now the first couple of miles had been rolling nice single track and I had not hit anything that presented any serious effort, that was about to change.
The next mile presents a climb that gains five hundred feet. I was not prepared for this and the first root step I hit, popped my front end up, the low gearing and my body placement put me into a wheelie that dropped me off the back in an instant.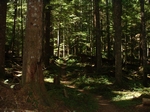 The techniques involved in climbing and descending take time to develop. Strength and endurance are also important parts of development for mountain biking.
During the climb, keeping your weight forward on the saddle and body positioned in a forward lean. The front wheel, on a strong climb will have a tendency to dance back and forth because most of the weight is on the back wheel. When attacking a root or rock step, it works best to pull up and crank forward in a thrusting motion, as if your trying to pull a wheelie but with just a enough energy to get the front wheel up and over the obstacle. As the back wheel hits the step, lean forward, un-weighting the back wheel and crank down hard to pull the back wheel up and over.
One mistake a lot of new riders make is shifting to the lowest gear they can get in when they hit a big climb. There are times the climb is steep enough that you have no choice but try to climb in the highest gear you feel comfortable in, one gear can make the difference between making it up over that root step or that six foot steep.
It takes practice and one of the best things you can do is to get a chunk of log, or a stack of boards, or a curb and practice bumping up and over. When you feel comfortable with that obstacle, get a bigger one.
Another great place to get practice and develop your skills is at bike parks like the one in Castle Rock.
Lots of the user built trails have many user built features, such as log overs, or they will layout the trail to take advantage of natural features.
After my first ride on the Siouxon I took a shot at the Tarbell trail. I had never been on the trail but had heard it was a good ride. I found out right away it was a huge challenge. Rocky rubble and lots of roots. I rode out a mile or so on my first ride, then turned around and rode back.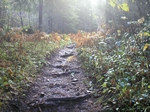 The next week I did it again, this time I rode another half mile or so before turning around and heading back. I repeated this every week for the next month or so until I was able to ride the first five miles for a ten mile out and back, it was great training.
I remember meeting a younger couple that were riding the Tarbell as a loop, starting at Rock Creek and riding to Grouse Vista, to ride back to Rock Creek on gravel. He thought that riding as an out and back would be unfulfilling, she was sitting on her bike behind him and I could tell by the look on her face, she did not agree with him.
One of the keys to enjoying mountain biking is to find people to ride with that are at or near your skill level and that will ride at a pace that you can enjoy. But as one of my friends always said, "one person on a bike is a ride, two people on bikes is a race".
Pacing yourself is also very important on the single track climb. Maintain a pace that is comfortable; maintain a respiration and heart rate that is moderate. On the mountain trails the climbs are almost never steady so maintaining a moderate pace allows you to press hard to bounce up over a root or rock step or crank up through a short steep and drop back into a steady moderate pace and recover.
If I find myself on a trail that is one steep after another, I will stop at the first opportunity and let my respiration drop until my body naturally takes two deep breaths. So, I mean, my heart is pounding and my breath is rapid, almost panting. After a while my body just naturally takes a deep breath, almost like a sigh, then a few more panting breaths and another deep breath, then I feel ready to press on in the climb.
The descent is another story; in fact the descent has its own discipline. There are bikes designed just for going downhill. My style of riding is more all mountain, I like the climb (single track climb) almost as much as the descent.
The key to descending has to be weight positioning and picking a line. Keep your weight back. Keep your eyes on the trail, look ahead and keep your chin up. The mountain biking mantra "look where you want to go, not where you don't want to go" sounds simple. If you don't want to hit that big rock or you want to ride across that skinny, look where you want to go, not where you don't want to go.
The root and rock steps now turn into root and rock drops. When hitting a drop of any kind, push the bike forward and shift your weight back as the front wheel hits the drop.
The steeper the descent, the further you want your weight back on the bike and many times this means you will have to push your butt off the seat, sliding back until the saddle is effectively positioned under your stomach. This meant for me that I had to ride with my seat just a little lower than optimal so I could slide off easily. Many riders will lower their seat before a big descent.
I purchased a dropper seat post a couple of years ago, and now I don't know how I ever rode without one. It positions you for fast downhill running and lets you have a full leg extension when riding with the seat up.
When cornering the best approach for fast descents is to tilt the bike but keep your weight over the contact point of the tires. Another way to put that is to weight the outside foot. That will make the bike lean while you stay upright.
When entering a corner, pick a line that allows you to run wide as you enter, then while looking ahead, pump down with your body weight to pick up speed as your line moves toward the center or inside of the corner and crosses back to the outside of the corner.
Look ahead and pick your line. Try to keep your head up and watch the trail ahead instead of looking right in front of the tire.
Relax your body and roll with the trail. Keep a firm but relaxed grip and don't hunch your shoulders. The breaks are designed to be actuated with just two fingers if you're using cable breaks and one finger if you have hydraulic breaks.
But most of all, have fun!